| | | |
| --- | --- | --- |
| Yep, gotta love epiphanies, especially at my age. LOL. So - my debut book was Celestial Dragon, a sci-fi futuristic romance. It wasn't the first book I'd written though. Prior to writing this one, I'd written two and half historical westerns, one and a half time travels and started a fantasy. You might call them my learning books. | | |
Sarah's Brass Token was my first completed romance since writing the "under-the-bed" book over twenty years ago. When I started the project, I realized I had three major stories happening in one, so I separated those plots to create three separate tales. In essence, I wrote SBT, Julia's Golden Eagle and Eliza's Copper Penny simultaneously, though I only wrote half of ECP before starting work on Celestial Dragon. While I queried CD, I finished ECP and started two more projects. Once I landed a contract for CD, I immediately queried my new editor about the three historical westerns, thus landing me three more contracts.
From the time I was accepted, to the launch of CD, I had a year and a half to start promoting the book and writing a sequel. I thoroughly enjoyed creating A Noble Sacrifice, but since it's launch in April '07, I haven't had time to work on any more paranormal, sci-fi type stories and I miss the creative freedom of that genre. I'm currently working on Once Jilted, another historical western and though this manuscript has been a blast, I'm feeling the constraints of historical accuracy and verbiage. I'm ready to write another sci-fi.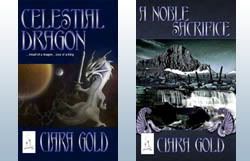 My epiphany? I've decided that
Once Jilted
will be my last historical western for a time. As soon as I finish, and I'm close, I plan to devote my energies to paranormal, fantasy and sci-fi related genres. I made this epiphany when writing an article about science fiction for a new magazine that will come out in March. (more on this later - grin)